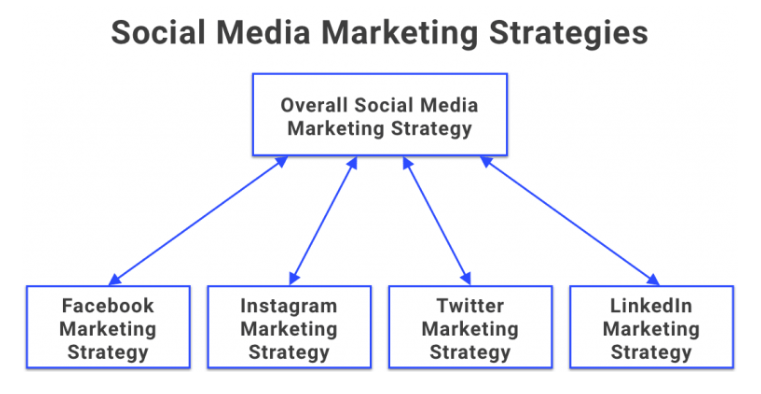 5 Best Social Media Marketing Strategies
With thousands of brands online, having a strategy is crucial, especially if you want to stand out from your competition.
Are you looking for perfect marketing strategies that can boost the growth of your brand?
Good! The moment is now for it to happen.
A focused approach offers you the ability to say "no" to initiatives that don't advance your objectives in a landscape with more competition, content, and networks than ever. Because of this, we created a comprehensive manual for building a social media marketing strategy from scratch.
This guide covers whether you're entirely new to social media or want to double-check your goals for 2023.
Why Should You Have A Social Media Marketing Strategy?
Your audience is already on social media. A strategy will be your roadmap to how you can engage with them so that you can maximize your social presence. It will help you to grow your business. 1 in 3 consumers says that social media is a preferred way to learn about brands.
It's a one-stop shop for people to discover your brand and customer service and find helpful insights for your business. But social media is an investment, and you need a strategy to make the most of it.
Now, we are going to show you exactly how to do this.
1.Set Social Media Goals
The first step is setting social media goals for your business. Consider the business goals that you already have. What does your brand want to accomplish? Consider how social media can help you meet these goals. Some standard plans include increasing brand awareness. This means you want more people to know about your brand.
Generate demand; this refers to increasing your leads, sales, and conversions. Boost engagement means your online community actively engages with you on social media. Try your best to keep your goals simple and realistic. Start with one or two goals that align with your business goals.
2.Research Your Target Audience
The next step is researching your target audience. You can't build a strategy unless you know who the content is for. So, use your target audience to guide everything, from your content to the social networks you use most.
Think of it like this!
You would not try to sell a soccer jersey to a tennis fan. Get to know your audience by looking at crucial demographics like your age, location, and even the networks they used to prefer.
Crescitaly.com is one of the best SMM panels that will give you a perfect idea about your
3. Define Your KPIs
No matter your industry or goals, your strategy should be data-driven. This is why defining your KPIs is considered necessary. KPI stands for Key Performance Indicator.
A KPI is a metric used to measure and analyze the performance of your strategy. Likes, comments, and shares are common KPIs for social media platforms. But there are a lot of metrics to choose from.
Please keep it simple, and select the KPIs that best match your business goals. Beyond vanity metrics like follower accounts, which don't tell you the whole story.
Instead, look at more extensive picture metrics like engagement. A large following looks excellent. But you are not making a connection if your followers aren't engaging through likes and comments.
Remember, KPIs are used to analyze your social data. It takes a combination of metrics to see if you are reaching your goals, so avoid relying on just one goal.
4. Evaluate Your Competitors
Think of this as watching your rival team play. What content scores them the most points, and where do they drop the ball? Do a quick search on Google and social media to identify your competition. Analyze their profiles to identify their high and low points.
After doing this, compare their social presence to your own. Apart from this, pay attention to the captions, popular hashtags, and trends for inspiration. Doing this will help you think about how your brand can innovate or stand out against the competitors.
5. Create Engaging Content
You need a camera or smartphone to get started. Even though they are helpful, you don't need an entire film crew. Aim for a mix of content types to help you organise.
For example, your content types could be product photos, memes, and expert tips. As you cycle through each of these, pay attention to which ones your audience enjoys seeing. When creating, remember to connect through humanity. Consumers pick brands that align with their values.
Create content that shows what your business means to you and your customers. Don't be afraid to dabble in the latest social trend or try something new too. It could lead to some of your best posts.
Besides these strategies, we have the best social media platform like Instagram, Tik Tok , Twitter and Facebook.
Crescitaly.com. This cheap SMM panel will let you know some of the perfect processes that could help you to promote your business in less time.
End Note
The greatest athletes never stop training. Keep working towards becoming a champion of social media platforms. These 5 tips and tricks can help you to grow your brand and engage with more and more customers. This will let you promote yourself in the crowded space on social media.