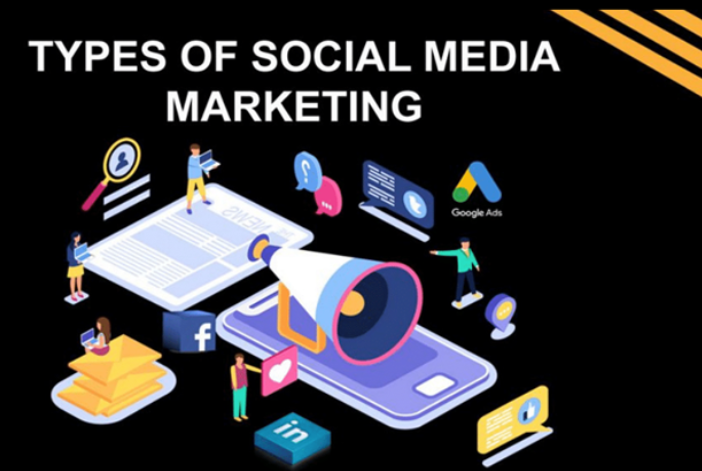 Social Media Marketing And Its Types
In order to develop a company's brand, boost sales, and enhance website traffic, social media marketing, often referred to as digital marketing and e-marketing, makes use of social media platforms where users may create social networks and share information.
Social media marketing (SMM) gives businesses a method to interact with current consumers and attract new ones. It also contains data analytics features that are specifically designed to help marketers monitor the effectiveness of their campaigns and find new opportunities for interaction.
Social media marketing can be done through different social media platforms like Instagram, Facebook, Twitter, TikTok, and many more. But there are also different websites that allow communication between users. They can interact and exchange information with each other.
Since social media's inception, one thing has changed: many sites used to concentrate on one activity, like social networking or image sharing. The majority of well-known social media platforms now include live streaming, augmented reality, purchasing, social audio, and other features.
Types Of Social Media Marketing
Content Marketing
The process of creating, distributing, sharing, and publishing content to reach your target audience is known as content marketing. The main purpose of doing so is to increase brand awareness, sales, and engagement.
In simple words, content marketing is making stuff like blogs, social media, podcasts, video, and applications that draws customers to your brand. It's part of a framework called inbound marketing, where you create something that the audience seeks out.
It is necessary to create engaging and attention-seeking content for increasing brand awareness. The information should be well-written and meet the demands of the audience.
Advertising
It's true that content marketing takes a lot of work. So, what's the alternative? The truth is that for most businesses, the alternative is worse. It is advertising also known as outbound marketing.
Outbound marketing was the thing that interrupted your audience, popping up in the middle of TV shows, or while reading a magazine or scrolling a webpage. Nobody really liked outbound marketing because it was disruptive. But, it was the only way for brands to reach their customers.
Advertising is typically thought of as a paid message that you control. It is the process of running the paid advertisements on social media to direct people to an external destination. Publications in magazines and newspapers, as well as advertisements on TV, radio, websites, and various social media platforms, are common techniques.
In contrast to public relations efforts, you choose, produce, and deploy the precise message you desire. Creating your ads and putting them up on various social media platforms are included in your advertising costs.
Social Media Management
Social Media Management is the umbrella for all the social media used to promote your business to potential customers. It is the process of creating, publishing, promoting, and managing content across social media channels.
It is more than just posting a picture on your Instagram. It is about posting meaningful content that genuinely helps the audience that you intend to reach. When done correctly, it takes your customer's deepest desires and helps them reach post by post.
There are different SMM panels through which you can shorten your tasks, and generate revenue easily. Crescitaly is one of the best SMM panels that can offer you bamboo services at affordable rates.
It is necessary to do social media management because there are over two billion people on social media every day. Moreover, people spend an average of 3-4 hours per day on social media. They are reading the latest news trends, following their favorite celebrities, and discovering new ways of life.
Paid Media Marketing
Paid advertising is any kind of advertising that you have to pay for, versus owned or earned advertising. Paid advertisements come in many different forms online;
Pay per click
Pay per install
Pay per view
Pay per download
Pay per acquisition
Display ADs
Video ADs
Efficient marketing campaigns capitalize on all the channels for advertising. Although paid advertising costs more than owned and earned advertising. Paid forms are an effective way to expose your company's name to a large audience.
Paid ads are usually displayed to users on the sides, tops, or bottoms of the web pages. Marketers can pay more to have their ads featured on more popular websites to increase traffic.
Therefore, it is vital to buy online ad space in order to advertise a product to a wider audience. Paid media is a component of a brand's entire marketing plan to enhance click-through rates, sales, and traffic.
Wrapping It Up
Social Media has completely changed the internet. Actually, it has changed the whole world and also the world of marketing. Thus, it has become necessary to start utilizing these new forms of communication. Social media offers different platforms for creating brand awareness, relationship building, or driving new sales.